Magento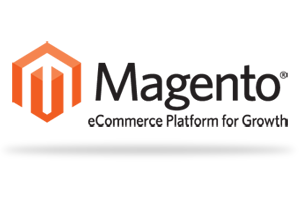 Magento is a stunningly powerful eCommerce platform built on open-source technology that provides online merchants with unprecedented flexibility and control over the look, content and functionality of their eCommerce store. In short Magento is specialized for use in creating websites for online webshops, and that is his main purpose. Thanks to this fact Magento is developed to cover all needs for online shop.
Magento's intuitive administration interface features powerful marketing and promotion tools, search engine optimization and catalog-management tools to give merchants the power to create sites that are tailored to their unique business needs. Designed to be completely scalable and backed by Varien's support network, Magento offers companies the ultimate eCommerce solution.
Other avaliable features in Magento are:
Product Browsing (Product Reviews, Multiple Images per Product, etc.), International Support (Localization, Multi-Lingual, Support for Multiple Currencies, etc. ), Shipping (Real-time shipping rates, Shipping to multiple addresses in one order, etc.), Customer Service (Feature-rich Customer Accounts, Order Tracking from Account, etc.), Order Management (View, edit, create and fulfill orders from admin panel, etc.), Analytics and Reporting (integrated with Google Analytics, Best Customers Report by Total and Number of Orders, etc.), Site Management (Control multiple websites and stores from one Administration Panel, etc.), Catalog Browsing (Layered / Faceted Navigation for filtering of products in Categories, etc.), Mobile Commerce (show the mobile-optimized version of your site for the mobile customers, etc.), Checkout (One-Page Checkout, Checkout without account/Guest Checkout, etc.), Payment (Multiple Payment Options Supported, Payment Extensions Available through Magento Connect, etc.), Customer Accounts (offer your customers the ability to save items to a wishlist and share with friends and family, access and edit their contact information and address book, and view their Ratings & Reviews and Product Tags, etc.).
Besides basic functionality in Magento platform there are avaliable various add-on extensions (themes, payment integrations, shipping, etc.) which can be found on the Magento Connect marketplace.
Similiar to other CMS Magento also has a templating system so you can change visual look of the web site through template switching. Templates can be found for free, or commercial, or you can create your own templates.
There are various editions available in Magento and so you could opt for the one that best fits your requirements. Magento comes in three different packages: Community, Professional and Enterprise Editions. Whilst the Community Edition is free to download it does have limitations. The Professional and Enterprise Editions have more features but do require a yearly license fee.